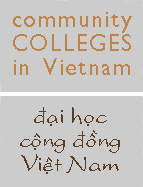 ---
This site presents a collection of articles by Dr Do Ba Khe and colleagues on education and, in particular, on the community college system in Vietnam.
---
To view Vietnamese text, download and install the Unicode fonts Times New Roman and Arial from the Microsoft Web fonts page.
---
Comments are welcome.
Mission of the University
---
Community colleges were established in Vietnam in 1971 with the prospect of peace following the end of Vietnam War. It was the implementation of a dissertation presented in 1970 at the University of Southern California titled: "The Community Junior College Concept: A Study of Its Relevance to Postwar Reconstruction in Vietnam."
The first Vietnamese community colleges were: Tien Giang (Upper Delta) Community College in My Tho, Duyen Hai (Coast) Community College in Nha Trang, and Phu Tho Technical Junior College in Saigon. Two other institutions have been approved: Long Ho Community College in Vinh Long, and Quang Da Community College in Da Nang. The Catholic Regina Pacis Junior College for girls was opened in 1973.
When the country was unified in 1975 the unified higher education network eliminated the community colleges which have been established in the south. Some of them had their names and scopes changed. For example, after three changes, Tien Giang Community College currently bears the long name "Center for Training and In-Service, College level, for Tien Giang, Ben Tre and Long An Provinces."
Under the national "renovation" policy the higher education system was reorganized, one important aspect being the construction of a system of community colleges. Some foreign countries welcomed that realistic idea. Canada has promised to sponsor 2 campuses in north Vietnam. In 1995, Holland pledged to support the establishment of 6 campuses, including the re-establishment of Tien Giang Community College. The People Committee of Tien Giang has submitted in 1996 a "Plan for Restoration and Development of Tien Giang Community College."
Community colleges are now regarded as playing a crucial role in the economy. In May 1998, under the title "Khuyến Khích Đại Học Công Đồng: Đòn Bẩy CNH-HĐH ở địa phương" ("Encouraging Community Colleges: Springboard for Local Technology Development and Modernization"), the magazine Kinh te Viet Nam (Vietnam Economy) said that from the 8 types of higher education institutions, community colleges deserve special attention because of its role in the transition to the market economy, and in the promotion of social equality for needy students and those in the rural areas... The magazine reported the establishment of the first (?) community college in Thanh Hoa, and many requests for openings in other provinces.
After decades of forced dormancy, community colleges are resurrected to affirm their status in the higher education system and its role in economic development of Vietnam.